Our sets make beginners look like they've been decorating for years.
Blossom Sugar Art offers silicone mould sets that will have you whipping up flowers and butterflies in no time.
Our sets are for people who love quick and easy cake decorating.
They also work beautifully with clay for craft projects and save hours of trial and error.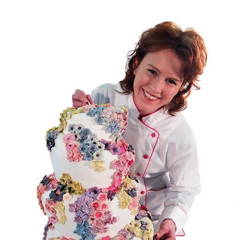 The owner of Blossom Sugar Art. I believe:
Equipment should be made to last for years.
Sometimes it's ok to do things the quick way.
Creating should be fun and stress free.
Go for maximum impact & minimum fuss.
Having worked as professional cake decorator and regular guest demonstrator in the UK for Cake and Craft shopping channels I love to help cake decorator's and crafters create flowers the quick and easy way.

Beginners love my products as they are so easy to use, experienced decorators love them too as they save so much time when making hundreds of flowers.
Craft equipment for your tool-kit is an investment so I invite you to have a look at our product specifications and reviews from our happy customers.

I design for quality and ease of use. Ideal for anyone from beginner to advanced, use the hours you save in the kitchen to put your feet up.